Smart Garden: How to Make Your Garden Smart
A smart home doesn't have to end at the front door or patio door. Gardens can also be enriched with various smart technologies. We give you an overview of the possibilities of a smart garden and the advantages that smart technology can bring you.
Robot lawn mowers save you the hassle of mowing your lawn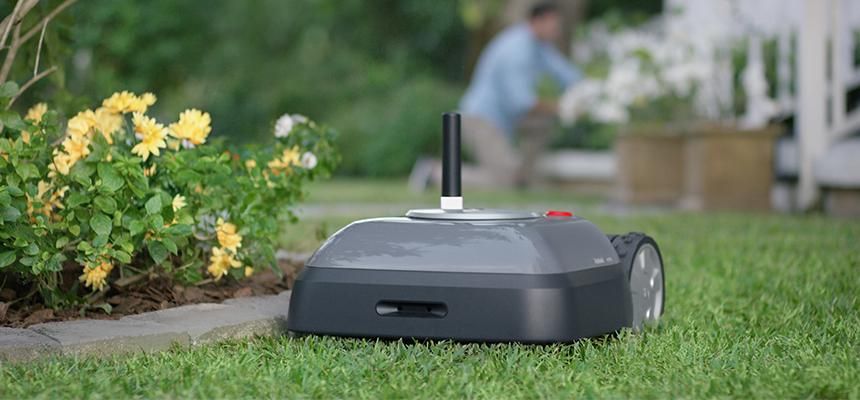 Someone should like mowing the lawn. If you are not one of them, a robotic lawnmower is the right solution for you. It's actually the counterpart of the vacuum robot in the house, taking care of the lawn outside.

Many "smart sheep," as some affectionately call their robotic lawnmowers, require the one-time effort of pre-installing perimeter wires. But there are also robotic lawnmowers that can do without this line. Many models can be sent to work via smartphone or voice. Or, they'll regularly mow the lawn in your garden according to a previously created mowing schedule, and smart models from Gadena, Worx, and Co even take into account how the lawn is growing.
Smart irrigation saves water
Sprinkling lawns and watering flower beds are other tasks that often occur in your own garden, especially during the dry summer months. There are also smart solutions now, which also help save water.

Smart garden irrigation can use sensors to determine how much moisture is in the soil. It also takes into account the weather forecast. In this way, it adjusts the amount of water distributed into the garden via drip hoses and sprinklers based on current conditions. When you spend a lot of time and effort watering each plant in your garden individually, you'll realize at the latest how practical it can be - and then before long a summer thunderstorm will bring the rain it needs anyway. Smart and automatic irrigation doesn't happen to you. But the opposite is also dealt with: who doesn't know? Plant promising little plants in spring and plant seeds, but in the heat of the season, you can barely keep up with watering. Smart watering can take you out of this worry and take care of the water needs of your turnips and partners.

Ideally, however, a smart home or smart garden should not only provide more comfort but also save resources. If given the opportunity, it is better to sprinkle previously collected rainwater rather than precious drinking water. This can also be distributed intelligently and intelligently in the garden via a controllable pump.
Smart lighting for ambience and safety
At home, smart lighting is often the entry point for smart home topics. But lighting in the garden can also become smart. With them, you can put your garden in the right light.

There are many possibilities: you can set the scene for special plants in the garden with dots, other lights illuminate paths and patios. And in the garden shed, the light will automatically turn on as soon as you open the door. Since the lights are dimmable and can often be lit in many different colors, you can create the right atmosphere to your liking.

Lighting in the garden also ensures greater security. Motion detectors in the garden turn on garden lighting at maximum brightness at night so uninvited guests don't sneak up on you in the dark. When we talk about security: Of course, it is possible to install security cameras outside the house so that you can also monitor the garden and the surroundings of your home from a distance inside and if necessary.
Your own weather station and solar system in your garden
The topic of smart weather monitoring, including rainfall, has been discussed during irrigation. But a smart weather station, such as B. Netatmo, can do much more. Fully equipped to monitor and forecast not only precipitation, but also temperature, air pressure and wind speed. So you know at a glance what the weather is like outside and what it is likely to be like in the next few hours.

Of course, gardens offer many other possibilities. For example, if you don't have a suitable roof, you can install a mini photovoltaic system in your garden. These small photovoltaic systems use sunlight to generate electricity. The energy obtained can then be used intelligently in the house and garden, for example to charge the battery of a robotic lawnmower. This can save you electricity and money in the long run.