Frequently Asked Questions
Need help finding an answer to your question? Ask our customer support at hello@airekey.com.
Is Airekey Lock compatible with all doors?
Airekey Lock is compatible with all European profile cylinder doors (armored and not).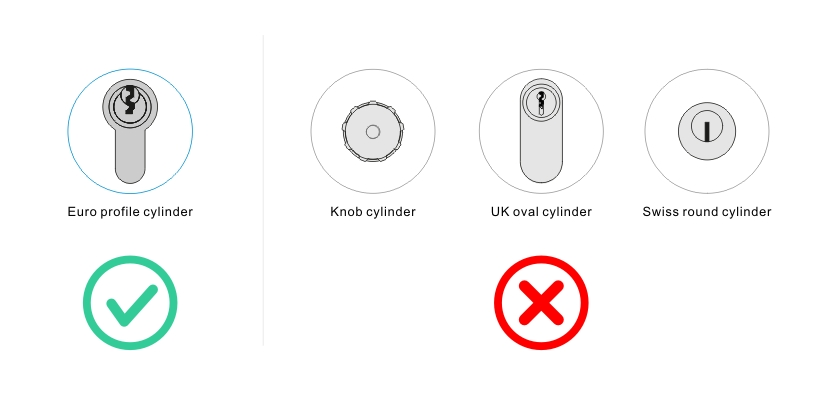 How long does the installation take?
Airekey lock is very easy to install. Users manual and instructional video for your reference. You can replace the existing door lock all by yourself with just a screwdriver, no costly locksmith required, and no hard wiring needed. Less than 10 minutes to install.
Does the host need to download an app?
Yes, by downloading the Airekey Host app from Google Play or the App Store you can open the doors to your guests remotely.
What to do if guests do not have internet?
Guests who do not use free roaming and therefore do not have free internet in Europe, can always contact you via SMS to have the main door opened. With Airekey they also have the option of intercom so that you can open with your mobile. While for the apartment/room door they can enter the unique code (which they received via email) on the Airekey Lock cylinder to unlock it. So, guests can open even if they do not have internet.
My accommodation is in a hard-to-reach zone, what can I do?
In the "Apartment" section of the Vikey dashboard, you can enter the address of the accommodation so that guests can see it together with the opening buttons. For any additional info you can insert photos, text and videos in the MyAirekey dashboard.
Does Vikey integrate with the smart automation system of my hotel?
Airekey technology can be perfectly integrated with pre-existing smart automation locks or with already electrified doors. Just connect the Airekey devices to the latter to have the remote opening, without necessarily having to change the locks or make invasive interventions.
How can Airekey help me to optimize the hospitality in my hotel?
Airekey can lighten the work of the reception by automating the handling of paperwork and the sale of extra services through the online check-in service (Airekey Digital) and can make any hotel smart by having an opening service from the web app h24 through smart automation devices (Airekey Smart).
Is Airekey's smart automation system also suitable for non-tech people?
Airekey devices and user interfaces, such as the web app to open accesses, are very easy and intuitive, within everyone's reach. Airekey self check-in has numerous "backup systems" that allow it to be used even by non-tech people, such as openings with code, smart cards and backup keys.